---
Machine Gun Kelly's Eminem Diss Track 'Rap Devil'
Written by DJ Chemics on September 5, 2018
After hearing his name dropped on Eminem's surprise Kamikaze album, Machine Gun Kelly took the weekend to pen his response on wax and take aim at one of his idols on the eviscerating "Rap Devil" on Monday (Sept. 3). The retaliation has received approval from differing crowds within the hip-hop community as the ball now goes back to Em's court for a rebuttal. 
MGK's lyrical assault attacks Em's inability to age gracefully in hip-hop, challenges his public bitterness when he lives a lavish private life, questions why the 45-year-old attempted to have him banned from his Shade 45 radio station (over a harmless tweet regarding his daughter from six years ago), and much more. 
READ MORE
A Timeline of Machine Gun Kelly's Ongoing Feuds With Eminem & G-Eazy
Kelly defended his actions of answering the Rap God's shots from "Not Alike" on behalf of his entire generation. "I'm standing up for not just myself, but my generation," he wrote. "I'm doing the same shit you did back in your day. life is still real on my side, and I had to take time from the grind to defend myself from someone I called an idol. love, Rap Devil." 
MGK also possibly sent subliminal smoke toward Em with his verse on Tech N9ne's "No Reason" earlier in 2018. "To remind y'all you just Rap and not God and I don't care who got bars," he raps.
While the public awaits the Detroit-bred rapper's response, Billboard deciphers the standout bars from Machine Gun Kelly's scorching "Rap Devil" diss track. 
References 2012 Tweet About Eminem's Daughter Hailie
"Man, you sound like a bitch, bitch/ Man up and handle your shit (ugh)/ Mad about something I said in 2012/ Took you six years and a surprise album just to come with a diss."
MGK mentions his initial 2012 insensitive tweet regarding Em's daughter, who was 16-years-old at the time, when he commented on photos of her that surfaced online. Kelly's sentiments got under Eminem's skin and the tweet still angers him to this day as seen by his response last Friday (Aug. 31) on "Not Alike." "Ok so I just saw a picture of Eminem's daughter… and I have to say, she's hot as fuck, in the most respectful way possible [because Eminem] is king," Machine Gun Kelly penned in May of 2012. View image on Twitter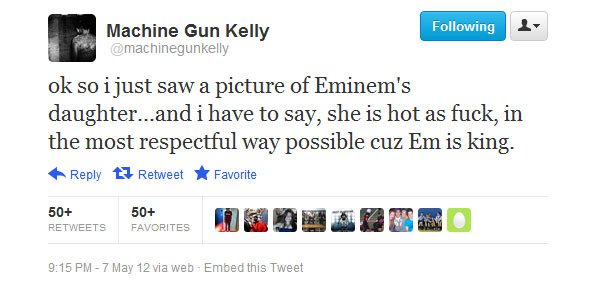 @machinegunkelly original Tweet about @Eminem's daughter back in 2012.
See Lil Antacid's other TweetsTwitter Ads info and privacy

Calls Out Eminem for Poor Fashion Choices, Questions Why He's Still Mad at Younger Rappers
"I'm sick of them sweatsuits and them corny hats, let's talk about it/ I'm sick of you being rich and you still mad, let's talk about it/ Both of us single dads from the Midwest, we can talk about it/ Or we could get gully I'll size up your body and put some white chalk around it."
At the turn of the century, Eminem became known for his baggy color-coordinated sweatsuits that were a staple of his wardrobe throughout much of his meteoric rise. He even capped off some outfits with a du-rag back then. MGK marvels looking back at vintage Slim Shady and clowns him for his former fashion choices. The 28-year-old then wonders how someone with a net worth north of 9 figures could still be so angry and lash out at compatriots within the genre that has allowed him to prosper. View image on Twitter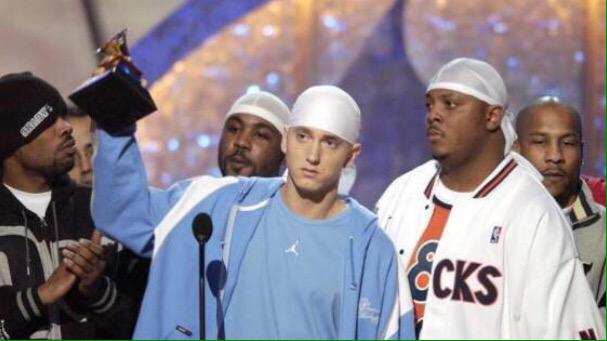 They should give @Eminem a lifetime achievement award for wearing a du-rag back in the day #BETAwards
21 people are talking about thisTwitter Ads info and privacy

Puts Eminem on Blast for Having Him Blackballed from Shade 45
"Let's talk about the fact you actually blackballed a rapper that's twice as young as you (let's talk about it)/ Let's call Sway, ask why I can't go on Shade 45 because of you/ Let's ask Interscope how you had Paul Rosenberg trying to shelf me."
MGK fires back at Eminem for attempting to bring his burgeoning career to a halt by allegedly banning him from all shows on his Shade 45 channel over at Sirius XM including Sway in the Morning. He then accuses the 45-year-old of having Interscope, who was headed by Eminem's manager Paul Rosenberg at the time, attempt to impede his career's progression thanks to ruffling Em's feathers with his 2012 tweet. Kelly has referenced this in previous interviews dating back to 2015 with Hot 97 and even hinted at Em's shady tactics in a 2017 freestyle with Power 106's L.A. Leakers.
Claims Eminem Demanded an Apology for his 2012 Tweet
"Why you claiming that I'ma call Puff?/ When you the one that called Diddy (facts)/ Then you went and called Jimmy (facts)/ They conference called me in the morning (what?)/ They told me you mad about a tweet/ You wanted me to say sorry (what?)/ I swear to God I ain't believe him/ Please say it ain't so (no)/ The big bad bully of the rap game can't take a fucking joke."
The "Bad Things" rapper is signed to multiple labels, including Bad Boy Records and Interscope. He claims that Eminem made calls to Diddy and Jimmy Iovine to ask MGK to apologize for his 2012 tweet about his daughter Hailie. Machine Gun Kelly admits he was flabbergasted when he heard the news, unable to comprehend how a punishing MC could be so sensitive about social media quips. 
Shuns Eminem For Going After the Next Generation of Rappers
"Shout out to every rapper that's up under me/ Know that I'll never do you like this fuckery/ Still bitter after everyone loves you/ Pull that wedgie out your dungarees (hey)/ I gotta respect the OGs and I know most of 'em personally."
MGK showers the rappers coming up after him with praise. He realizes Eminem's wrongdoing in going after the young MCs and promises he would never try to destroy or hurt their careers in the future. Kelly then moves into once again questioning how Em is still so mad at the world when he's one of the most critically acclaimed and commercially successful artists to ever grace the mic. 
Wishes Eminem Would Resort Back to His Old Ways
"We know you get nervous, Rabbit/ I see momma's spaghetti all over your sweater/ I wish you would lose yourself on the records that you made a decade ago, they were better."
The Interscope signee gets creative interpolating shrewd wordplay from Eminem's 8 Mile character and the lead track that coincided with the 2002 film in the anthemic "Lose Yourself." Kelly wishes the "Not Afraid" rapper would resort back to his former hitmaking ways in the previous decade instead of the "get off my lawn" posturing. It's safe to assume that MGK feels that Em's Revival album doesn't measure up anywhere near older projects such as The Eminem Show. 
Explains Retirement Could be in the Near Future for Eminem
"They made a movie about you, you're in everybody's top ten/ You're not getting better with time/ It's fine Eminem, put down the pen/ Or write an apology about the simple fact you had to diss to acknowledge me."
The Cleveland native continues to narrate Eminem's downfall in rap. He still admits that Slim Shady's a legendary figure in most people's eyes, so there's no need to tear down others in the later stages of his career. MGK then boldly challenges Em to put down the pen and retire his rhyming ways or apologize for the fact he had to diss a bunch of rappers to maintain relevance. 
Teases Eminem by Name-Drropping His Ex-Wife
"But bitch I'm from Cleveland, everybody quiet this evening, I'm reading the eulogy (shh)/ Dropped an album called Kamikaze, so that means he killed him/ Already fucked one rapper's girl this week, don't make me call Kim."
MGK puts the nail in the coffin of what he claims to be Eminem's eulogy by tempting to call the Shady Records CEO's ex-wife Kim Scott. This comes after already namedropping Em's daughter, Hailie, earlier on the Ronny J-produced tune's opening verse. He hints at being romantically involved with another rapper's girl already this week.
Machine Gun Kelly claimed to have had sex with who is rumored to be Halsey in his hard-hitting freestyle on Hot 97 from last Friday (Aug. 31): "Let's just keep it G/ Only Eazy I fuck with is E/ I seen he's dyed his hair and got a hanging earring/ I fucked his girl now he look like me/ This shit overbearing/ How dare him, I dare him/ Don't think about comparin'/ Now turn that frat rap off/ I'm gettin' sick of hearing," he rhymes. (Though recent photos would claim that it isn't Halsey, as G-Eazy and his ex-girlfriend seem to be back on.)
---
Reader's opinions
---